A CO2 laser cutter, unlike a diode laser, is primarily used to cut a material. While the latter relies on a diode with a light power of less than 10 watts, the CO2 laser is capable of reaching a power of several hundred watts making it possible to cut multiple materials. To do this, the cutter sends an electric current through a glass tube containing a mixture of gases, which creates a photon emission, or in other words, light. At one end of the tube, there is a reflecting mirror and at the other end, a partially reflecting mirror that only lets the laser light out when it is strong enough. The beam emerging from the laser is then redirected to the cutting head by a system of mirrors. We know that the market for laser cutters is vast, but there are three types of machines: intelligent, semi-industrial and industrial. We took a closer look at some of the laser cutters on the market!
Smart Laser Cutters
Smart machines are intuitive, Plug&Play and often have various additional security options. The target audience for these machines is mainly educators, independent designers or SMEs. These machines usually offer intelligent material management and additional functionality with an on-board camera.
Makeblock/xTool Laserbox Pro
The Laserbox Pro is the laser cutter offered by the Chinese manufacturer Makeblock. Makeblock is known for its kits and other educational products aimed at a young audience. And the Laserbox Pro fits perfectly as an easy-to-use product, even for a child (though make sure to supervise anyway), thanks to its implementation of the camera allowing users to cut and engrave without going through the computer (you just have to draw with a felt-tip pen on the compatible material for the camera to recognize it and cut/engrave it). It is thus possible to start a cut with a single click of a button on the machine. The proprietary software is intuitive and connected to the machine in order to access the camera feedback and identify the material being used (provided you are using materials sold by Makeblock). To ensure a healthy environment when using the laser cutter, the Laserbox Pro includes an external air filtration system.
Price : €4,600
Power : 40W
Cutting Area: 500*300 mm
Glowforge
The Glowforge is the most well-known smart laser cutter, and that's surely thanks to its historic Kickstarter campaign. By raising almost $28 million in just 30 days, the American brand quickly made a name for itself in 2015 and became the reference point for smart and intuitive machines. The manufacturer now offers 3 variations of its machine (Basic, Plus and Pro) allowing for different speeds, laser power, cooling and material access hatch. Using the Proofgrade materials sold by the manufacturer, the cutting profile is automatically configured to simplify user experience. Glowforge machines use web-based software that can be accessed from any internet-connected device and is compatible with many file types such as JPG, PNG, SVG, PDF. Glowforge laser cutters have an internal air extraction system that allows air to be redirected to the outside; if you wish to filter the air beforehand, count on paying $1295 extra.
Price: $3995 – 6995
Power: 40 – 45W
Cutting Area: 495.3*279.5 mm
Full Spectrum Muse Desktop CO2
The American manufacturer Full Spectrum Lasers offers the Muse range which is itself divided into two categories: the desktop CO2 and the Fiber Open Galvo. These two categories use different laser sources and do not work on the same materials. The Muse Desktop CO2 is available in three models, the Core, the 3D and the Titan. All three machines are based on a CO2 laser with a power of between 40 and 45 W and have a touch screen to control the machine. With the exception of the Core, the muse desktop CO2 laser cutters feature a 3D camera for easier job preparation via the connected proprietary software and simpler cutting with auto-focus. The 3D and Titan models also feature active cooling of the CO2 laser tube to extend its life and a removable cutting table. The Titan also includes an air extraction system to clear the smoke created by cutting or engraving. Full Spectrum Lasers shares various projects, tips, tutorials and resources for training on the Muse line of machines. Full Spectrum Lasers also offers certifications to attest to the operator's abilities.
Price: $2,999 – 6,499
Power: 40 – 45W
Cutting Area: 508*304.8 mm
Flux Beamo
Heralded as the smallest CO2 laser cutter, the Flux Beamo does have some advanced features. It includes a camera, a touch screen that allows you to design your engraving or cutting from a photo taken on your smartphone. For more advanced cutting and engraving, the Beamo requires the use of its proprietary software to prepare the cut, but it is compatible with various file extensions such as JPG, PNG, SVG or DXF allowing the use of CAD software such as Illustrator, Affinity, Photoshop, CorelDRAW, AutoCAD, SolidWorks, etc. The Flux Beamo is equipped with a 30W CO2 laser that can be coupled with a diode laser for better engraving. In addition to its software and application, the Beamo has a touch screen to control the machine.
Price : $2,299
Power : 30W
Cutting Area: 300*210 mm
Flux Beambox & BeamboxPro
The Beambox and Beambox Pro laser cutters from the Belgian manufacturer are similar to the Beamo, sharing all of its features (except for the diode laser, which is optional on the Beamo) but offering greater power and work volume.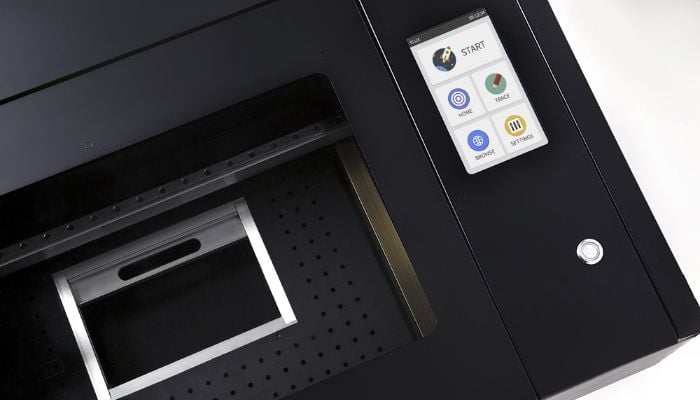 Price: $4,099 – 5,199
Power : 40 – 50W
Cutting Area: 400*375 – 600*375 mm
Semi-Industrial Machines :
Semi-industrial CO2 laser cutters are mostly more powerful than smart machines and offer a larger cutting surface. These machines can therefore cut more complex or thicker materials. They do not have all the intuitive features offered by intelligent machines, but they offer finer adjustments and are mostly compatible with different cutting preparation software such as Lightburn.
OMTech – 100W CO2 Laser Engraver Cutting Machine
The 100W CO2 laser cutter from the California-based manufacturer features a leveling sensor, a large motorized worktable, a material access hatch, an emergency stop button and an external laser tube cooling system. The machine is controlled by a Ruida panel known for its capabilities and compatibility with various laser cutter control software. The machine comes with RD Works and the Corellaser software suite. Note that thanks to its Ruida panel, the cutter is also compatible with Lightburn (license to be purchased separately).
Price: $3,999.99
Power: 100W
Cutting Area: 700*500 mm
Epilog Laser Fusion Pro
Available in three versions (24, 36 and 48), the Laser Fusion Pro line from the U.S. manufacturer stands out from its competitors by its engraving speed, which can reach 4.21 m/s, according to EpilogLaser. Laser Fusion Pro machines can be equipped with a single CO2 laser or a dual-source system, integrating a fiber laser in addition to the CO2 laser to expand the hardware portfolio. All three cutters also embody the proprietary IRIS™ Camera Registration system, which allows the user to prepare operations more easily and accurately via the connected software.
Price: On request
Power : 60-120W for CO2 laser and 30-50W for Fiber laser
Cutting Area: 610*610 – 1219*914 mmTrotec Speedy
Trotec and its Speedy range
The Speedy line from Austrian manufacturer Trotec has been updated several times since its introduction in 1999. Today, it includes four laser cutters that can be configured according to your needs. These machines are known for their speed of operation, allowing them to cut up to eight times faster than other comparable machines, according to the manufacturer. Thanks to the Flexx technology, the cutters integrate two laser sources, combining the advantages of the CO2 laser with those of the fiber laser, thus allowing to cut and engrave a wide range of materials from wood to metal. The manufacturer also announces a very fine and fast engraving that can reach a precision of 2 pt. at 4.3 m/s. By opting for the Speedy 400, users can also benefit from Speedy's proprietary connected software, designed for faster and easier manufacturing. In addition, the manufacturer has an extensive repository of webinars, tutorials and replication projects for the user to train and experiment with.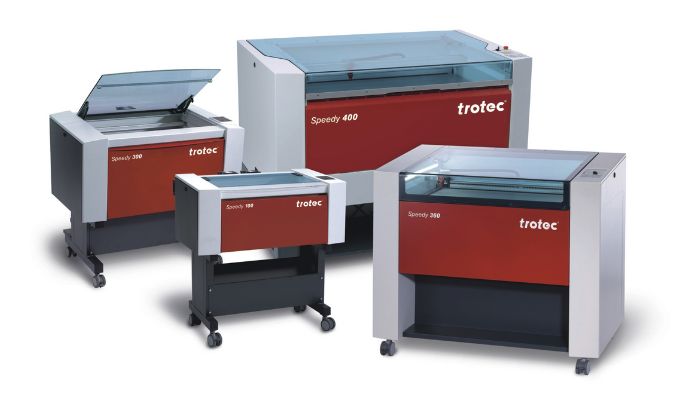 Price: On demand
Power: 30-120W
Cutting Area: 690*346 – 1096*698 mm
Industrial Laser Cutters :
Industrial CO2 laser cutters are similar to semi-industrial machines, but are frequently more powerful and larger. They are also often open-ended – the user is not protected from the laser by a closed enclosure. The user will need to wear appropriate protective equipment (glasses). These machines can nevertheless cut large whole sheets of different materials from wood to metal with the most powerful lasers.
Full Spectrum Lasers – 4'x8′ Flatbed CO2 Laser
With a cutting area of 1,220 by 2,440 mm and an easily accessible table, the American manufacturer's machine is capable of cutting entire boards of material. Thanks to its 150W laser, the materials compatible with this laser cutter range from wood to steel to acrylic and even carbon (up to 1.2 mm for carbon and steel, 25 mm for acrylic and 20 mm for wood in one pass). Note that for metals other than steel, a fiber laser cutter must be used. Other features of this machine include a maximum cutting height of 40 mm, an air assist for better cutting and an automatic focus via a moving cutting head and a capacitive sensor. To ensure a longer life of the laser tube, the Full Spectrum Lasers cutter is equipped with an internal cooling system.
Price: $35 000
Power: 150W
Cutting Area: 1220*2440 mm
Trotec SP
Austrian manufacturer Trotec offers four laser cutters in its SP line. While the SP500 and SP1500 are semi-industrial machines with an enclosed work area, the SP2000 and SP3000 do not have an enclosed work area, allowing access to the work surface and loading/unloading of materials from anywhere around the machine. Trotec guarantees the safety of the operator by equipping its machines with class 2 lasers, an extraction system integrated in the workhead (optional) and a sectioned extraction system on the processing table (also optional). In addition, the service life of the lasers and the cutting accuracy is guaranteed by an integrated air assist system. The Trotec SP2000 and SP3000 lasers are controlled by the proprietary Ruby laser software and benefit from two virtual work surfaces, which, according to the manufacturer, increase productivity by 50%.
Price: On Demand
Power : 60-400W
Cutting Area: 1245*710 – 2210*3210 mm
Which CO2 laser cutter was your favorite? What would you do with it? Let us know in a comment below or on our LinkedIn, Facebook, and Twitter pages! Don't forget to sign up for our free weekly Newsletter here, the latest 3D printing news straight to your inbox! You can also find all our videos on our YouTube channel.