Dewallie LA-400 Laser Engraving Machine review
REVIEW – I love crafting! I own a Cricut and it allows me to do most things, with the exception of engraving.  I have looked into purchasing an engraving machine because of all the additional options, but never pulled the trigger.  When the opportunity came to test out the Dewallie LA-400 Laser Engraving Machine, there was no way I was going to pass that up.  Here is how it is going for me.
What is it?
The Dewallie LA-400 Laser Engraving Machine is a compact home desktop engraving machine. This machine can laser engrave and cut graphics and images on materials like wood, paper, leather, acrylic, and more.
Hardware specs
Model: LA 400
Laser power: LA-2: 5 W
Engraving size: 400 x 400 mm
Precision: .01 mm
Wavelength: 445±5nm
Product weight: 4.4 kg
Product dimension: 616 x 577 x 212 mm
Focal Spot: 0.08-0.1mm
Input Volt/Current: 12V/1.7A
Module Power: 4500~5500mW
Fan speed: 8000RPM
Data transmission method: USB connection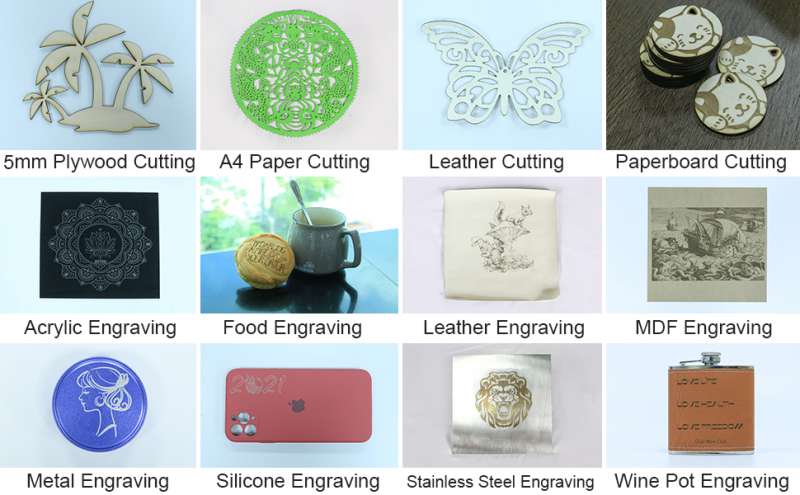 Supported cutting materials: cardboard, non-woven, thin sheet, acrylic material, certain thin plastic sheets
Supported engraving materials: paper, cardboard, plastic, PCB board, aluminum oxide, non-reflective plating surface, lacquer, white surface
What's in the box?
I do appreciate a nicely packaged product and when this product arrived, it did not disappoint.  Not only was it shipped in a box inside a box, each piece was nicely placed in a Styrofoam protective insert, which assured that all the pieces were protected in transit.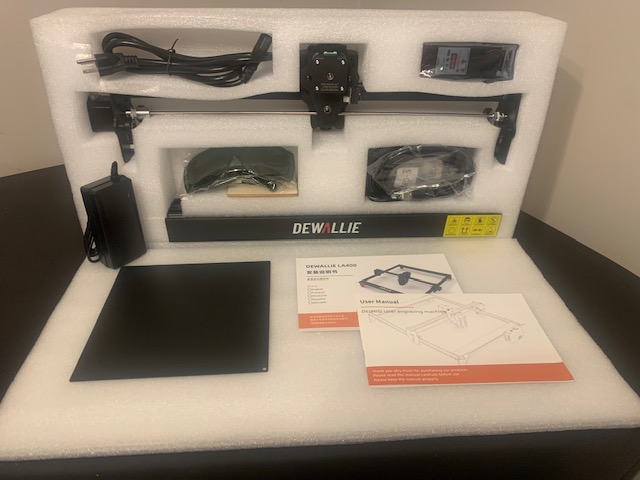 Sides: 2040 Profile x2, 2020 Profile x2
Cantilever
Main Control Box
LA-2 Laser Head
Set of switches
Hexagon socket countersunk head screws: M3x8 (3)
Spherical head screws: M5x6 (4), M5x16 (8)
Cylindrical head screws: M3x6 (2), M5x20 (8)
Cable ties x 5
Legs x 3
Gasket x 4
Belt x 2
Assembly tools
Power Cord & Adapter
USB data cable
Protective glasses
Assembly manual
User manual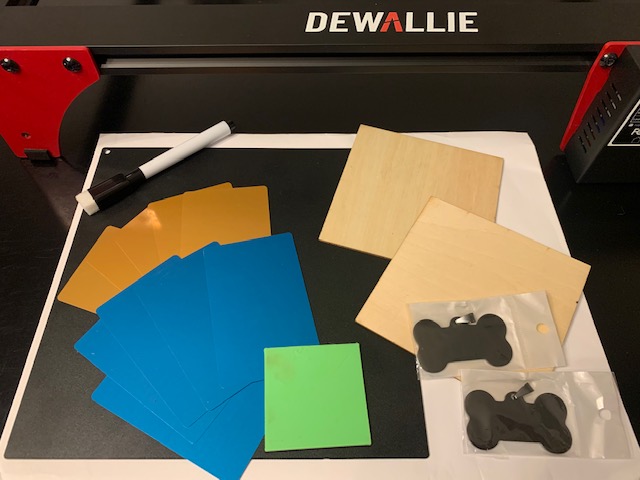 Also included with the Dewallie LA400 is a variety of materials to practice your engraving and cutting.
One of the most important steps in using your Dewallie LA-400 Laser Engraving Machine is making sure that your laser is focused and positioned correctly.  The Dewallie LA-400 makes this simple and easy.  It has a fixed-focus laser, with a specific focus position located 2mm from the bottom of the light shielding sleeve.
A 2mm positioning block is included in the package to use to make sure that you can easily adjust the laser to that magic 2mm height.  Simple move the laser head above the object you wish to engrave or cut using the adjustment knob on top of the laser head bracket.  Place the 2mm positioning block on the object to be engraved or cut.  Turn the adjustment knob until the light shielding sleeve contacts the positioning block.  Slide out the positioning block and begin.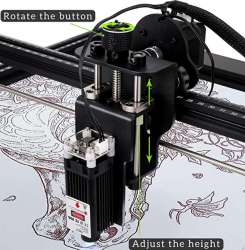 After adjusting the height of the laser, I began with my first attempt at engraving.  It was this fox design image my daughter found on the internet.  I just kind of winged this one, making sure that the image would fit on my material and just went with it.  I didn't pay much attention to all the options of speed and power.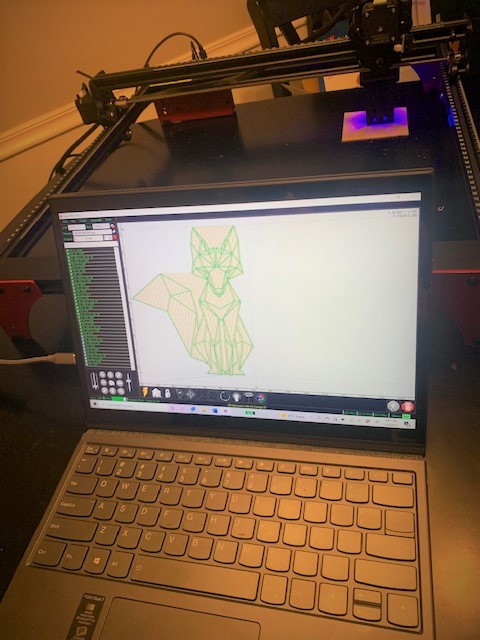 To my amazement, it actually didn't turn out too bad.  The image quality wasn't super great and like I said I didn't mess with all the settings and hadn't done a lot of research on the LaserGRBL software at this point.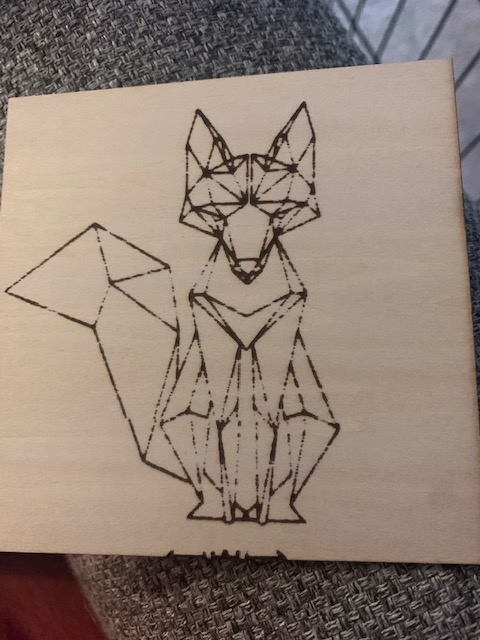 I decided that I then wanted to try the cutting function.  Again without doing a lot of research on the LaserGRBL software at this point.  I did know that I needed to change the settings to cut vs engrave and that it needed multiple passes.  So, I used the logo on my computer for my real estate brokerage.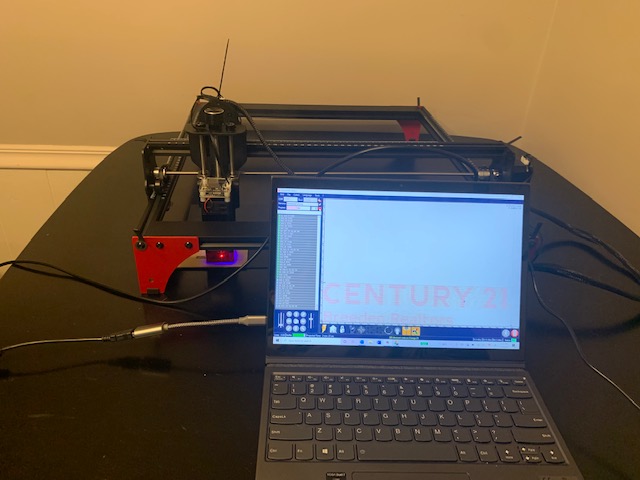 As an engraving on the first pass, it looked great.  The second pass got darker.  By the third pass, it was burnt looking, but as you can see it did go thru the material.  After researching, I had the parameters for the laser set wrong for what I was trying to accomplish.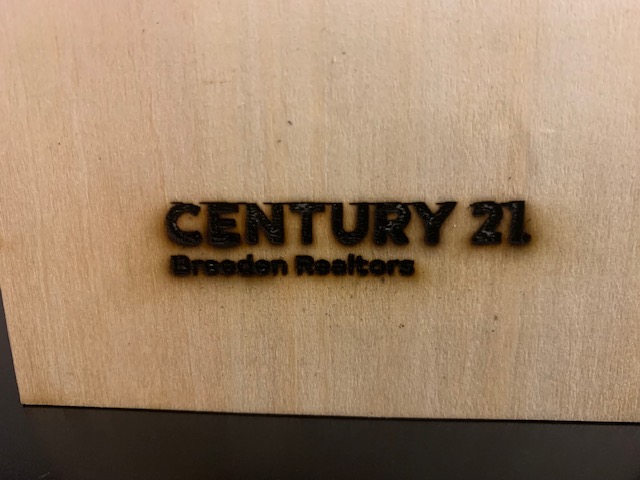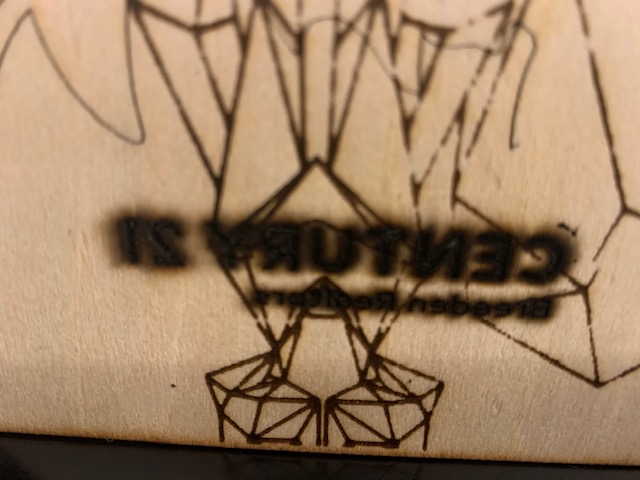 The user manual that comes with the Dewallie LA-400 Laser Engraving Machine does have a section in the back for common materials and their parameter recommendations.  As you can see, it will tell you what percentage of power, speed and how many passes (times) for each material.  This is definitely a great resource when figuring out how to use your machine.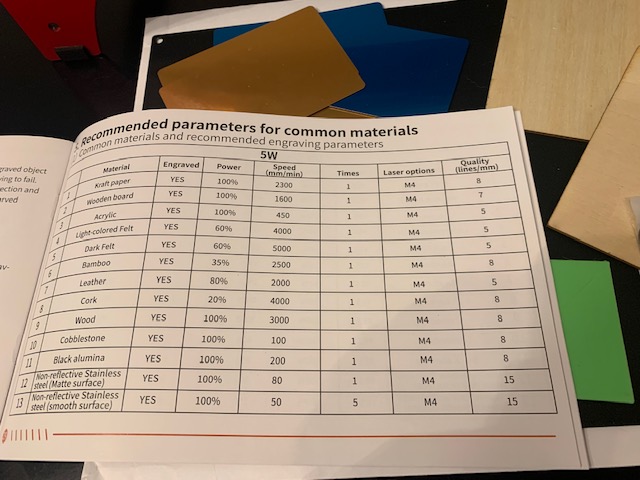 Finally, after really digging into different online resources, LaserGRBL FAQ and especially reading and following the LaserGRBL Community Facebook group, I learned a whole lot of tips and tricks to using the software and about laser engraving machines (as this group is for the software and not specifically for the Dewallie LA-400) in general.
I decided next to just cut a simple triangle.
According to the LaserGRBL Community Facebook group, one of the members mentioned that 1bit BW Dithering mode might be a better fix for cutting.  He preferred the Jarvis and Diagonal on the options in this mode, so I just went with that.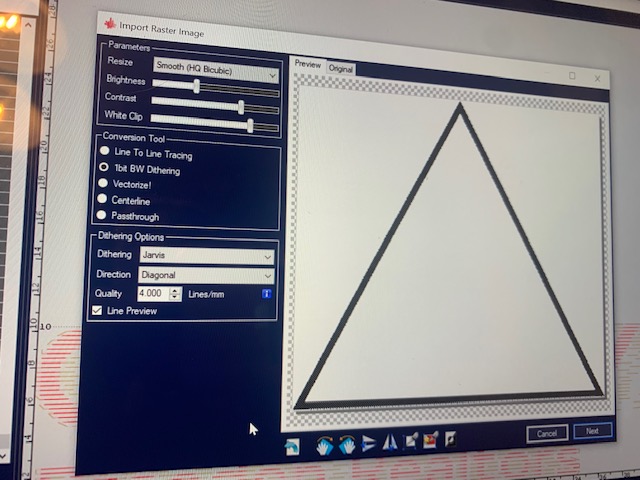 Next for the configuration, it recommends 400mm speed, 100% power and 3 passes.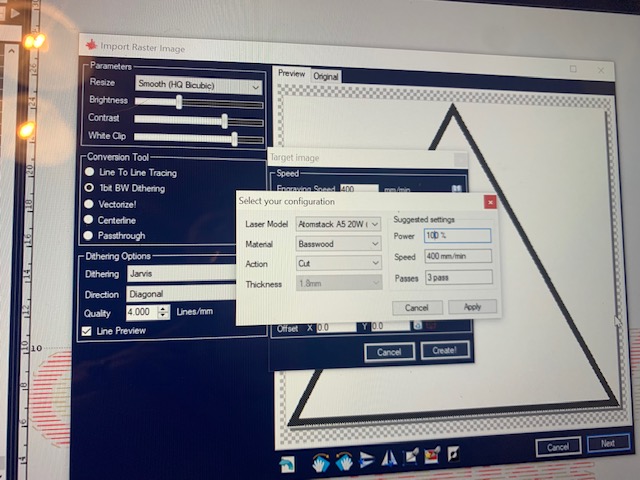 The user manual that comes with the Dewallie LA-400 Laser Engraving Machine does mention when choosing the "1bit BW Dithering" mode- that you will want to choose the M3 laser mode.  All other situations, you would always use the M4 laser mode option.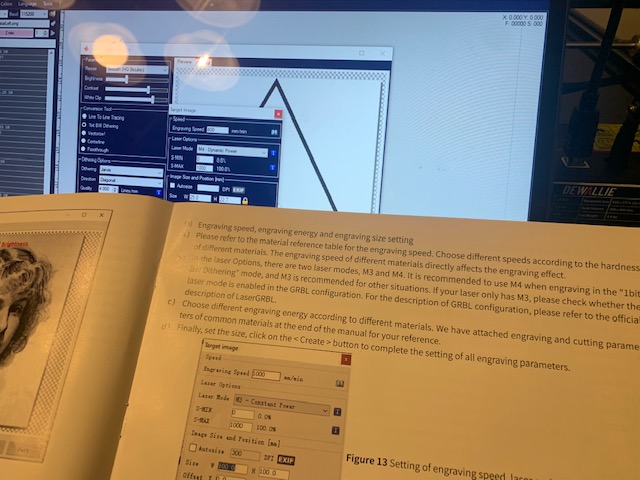 Here is the triangle.  It popped right out.  Looks a little rough, since I kept using the same practice material, but overall I do believe I'm finally starting to understand and love the Dewallie LA-400.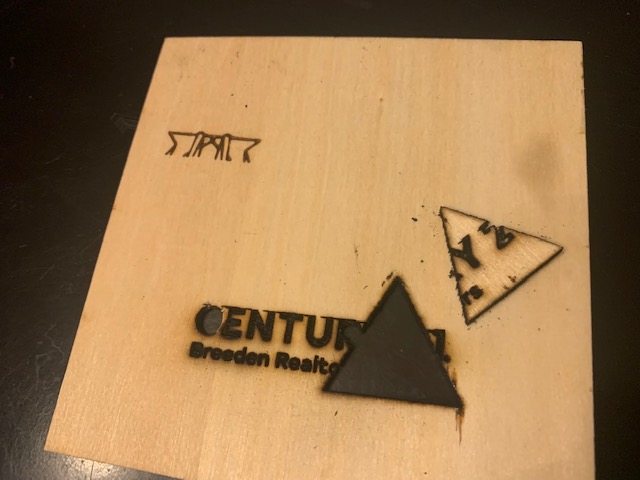 I wanted to show you a few other materials and more successful projects as well.
Here is a metallic dog tag I made for my furbaby, Libby.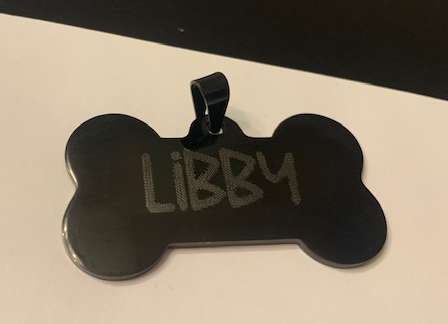 Lastly, I thought I would show you a little example about how switching a few parameters can change the whole look of the final product.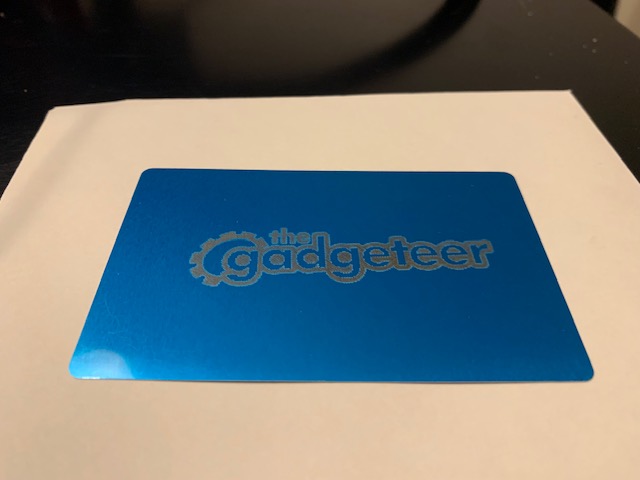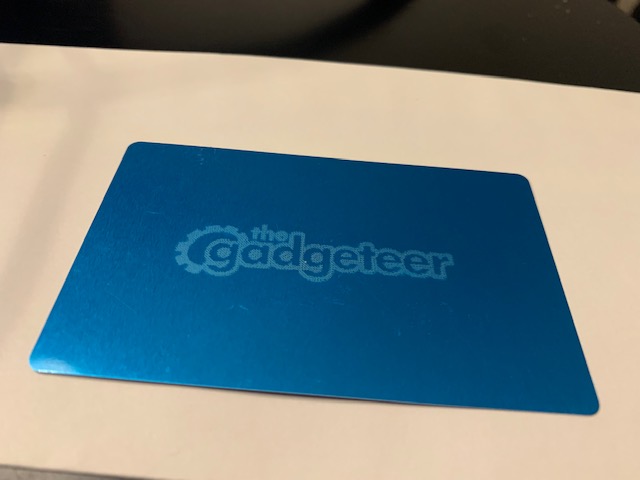 There is still a lot of learning to be done for me to be a confident laser engraver, including mastering the LaserGRBL software and configuring my Dewallie LA-400 Laser Engraving Machine  to the right perimeters depending on materials and design.  So far, I'm happy with my Dewallie LA-400 and I'm excited to keep learning and loving the machine and all it can do!